Last month was Breast Cancer Awareness month and SkyWest employees from around the system teamed up to support the fight and bring awareness through generous donations and events!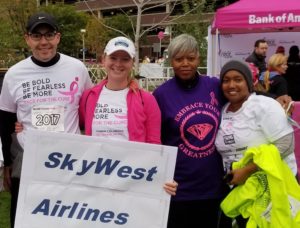 Throughout the month, team members donated to the American Cancer Society for a chance to win a SkyWest CRJ200 aircraft model and SkyWest matrix jacket. Congratulations to Chicago CRJ Captain Taylor Hinson, who came away with the aircraft model, valued at $300, and ERJ First Officer Benjamin Ruth, who will take home the matrix jacket!
At the 2017 Komen Colorado Race for the Cure, employees on team "Denver Flyers" got moving for the cause, gathering donations and participating in a 5K event. At SkyWest headquarters, employees got busy in the kitchen, making treats for the annual bake sale and cooking up chili for the competitive Chili Cook-Off! While the competition was hot, hundreds of dollars were raised to benefit the American Cancer Society.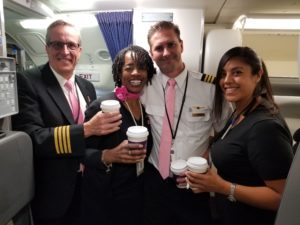 And of course, what would Breast Cancer Awareness Month be without pink? Crewmembers purchased hundreds of pink items to go with their uniforms, with funds benefitting cancer research. Pink ties, scarves and socks were proudly worn to raise awareness and remember fighters and survivors. In the air, passengers were able to buy special food and drink items with their purchases helping the fight against cancer.
Together, SkyWest people raised thousands of dollars for cancer research in October in a display of solidarity for each other and those we serve onboard each of our 2,000+ daily flights!