SkyWest is honored to have been part of one veteran's special journey back to Normandy to commemorate the 75th anniversary of D-Day.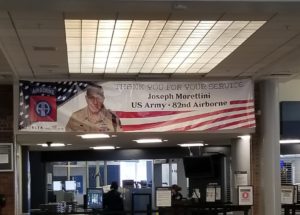 Mr. Joseph Morettini, a U.S. Army veteran, was travelling to France this month for the international commemoration. These memorials and remembrances hold a special place in Mr. Morettini's heart, as he served as a paratrooper in the 82nd Airborne Division. He is one of the few living survivors who stormed the beaches of Normandy and served in the Battle of the Bulge.
A resident of Erie, Pennsylvania, Mr. Morettini flew out of Erie International Airport on a SkyWest Airlines flight to begin his journey to France. Tawyna Rexford, SkyWest Airlines Station Manager, described the airline's role in ensuring Mr. Morettini received special treatment on his journey.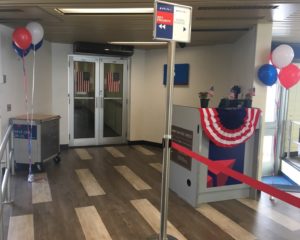 "Our team was able to organize a local American Legion Color Guard, high school JROTC procession, local business veterans group, local fire and police departments, and members of our city council and elected state officials to make an appearance in the surprise send-off," said Rexford.
The surprise ceremony was heightened, as SkyWest worked to ensure Mr. Morettini's entire family would be able to witness the celebration honoring their beloved relative.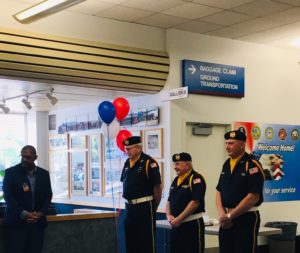 "We worked behind the scenes to get Mr. Morettini's whole family here to complete the surprise. Mr. Morettini has made many appearances over the years at all sorts of events across the country. His son has accompanied him to most of the events. In a speech given to the assembled crowd, Mr. Morettini's son shared that this trip will be the most memorable for both of them, because this is the only event that they have been able to experience as an entire family," said Rexford.
SkyWest Captain Taylor Spangler, accompanied by First Officer Mark Geyer and Flight Attendant Meghan Decker, presented an American flag to Mr. Morettini on behalf of SkyWest Airlines and Delta Air Lines.
Rexford summarized the day's events and recognition: "Our people have hearts of gold and unmatched passion for what they do. I am so proud that they exemplify the best qualities of what SkyWest's Guiding Principles are all about."
A heartfelt thank you to Mr. Morettini and to all those who have sacrificed for our freedoms.