When he's not climbing to 35,000 feet as a pilot, SkyWest CRJ First Officer Ralf Socher is climbing mountains nearly as high!
This past year, Socher had the chance to traverse and summit Denali. At 20,310 feet, Denali is the highest peak in North America. This height and it's location near the Arctic Circle make the mountain prone to extreme weather. Reaching the summit requires discipline, strength and focus; skills that Socher has developed through practice and his experience as a pilot.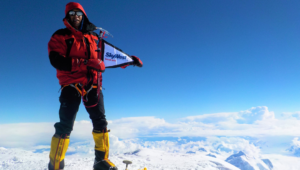 "Mountaineering, particularly on high, remote peaks like Denali, can be compared to flying in regards to the need for situational awareness and planning," said Socher. "As with flying, always having an alternate plan in mind in case something changes or goes wrong is critical."
Socher's first experience with mountain climbing took place in the Alps when he was 16, but it wasn't until he was a new hire with SkyWest, based out of Fresno, California (FAT), that mountain climbing became a regular activity.
"As a pilot at SkyWest I appreciate the schedule flexibility that allows me time to go climbing and train for big expeditions like Denali…and with Fresno's close proximity to Yosemite, I took the opportunity to expand my technical skills often."
Scaling Denali took Socher and his group 14 days. Along the way he encountered numbingly cold conditions and an exhaustion he had never experienced before. Relying on his training, he was able to overcome the challenges to reach the top.
"In the thin atmosphere, where the sky overhead became midnight blue, I hardly noticed my deep rhythmic breathing. I was focused and feeling light afoot. Excitement hit me as we negotiated a stretch of deep snow along a precarious narrow ridge before joyously striding to the top of North America!"
SkyWest is proud to have so many incredible team members like Ralf Socher who provide exceptional service to millions of passengers each year, while still pursuing their dreams. At SkyWest, there's no telling just how high you can climb!
Learn more about SkyWest and career opportunities available to you here.