Three years ago, while helping with cleanup projects in the Pacific Northwest, a friend challenged SEA First Officer Joseph Leatherman to pick up trash for 30 minutes a week. Not only did Joseph accept the challenge, but he upped the ante, telling her that he would pick up trash for 30 minutes each day.
"I love nature and the outdoors, and I want my daughter to appreciate it and take good care of it so that future generations can enjoy it as well," he said.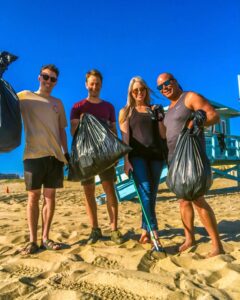 To meet his goal, Joseph started using his layovers to pick up trash everywhere he went. In some cases, he spent several hours picking up trash and other garbage. Neither rain nor snow has slowed Leatherman down either, as he hasn't missed a day in more than two years.
"Everywhere I go, I take a garbage bag with me," he said. "You never know what you will find and it feels good to go out and make a difference. It's always a positive experience because you are doing something great for the community and the environment."
Having been based in LaGuardia (LGA), Portland (PDX) and Seattle (SEA), Joseph has had an opportunity to help many communities across North America. Joseph has also expanded his efforts by asking fellow crewmembers to join him on cleanups.
"I was ecstatic to help Joseph with a cleanup," said SkyWest ERJ Captain Jade Braff. "I've never been approached by another crewmember to do a cleanup before, but I had a lot of fun. The before and after pictures are inspiring. It instills a desire to do more. To work harder and come together as a community to achieve a common goal."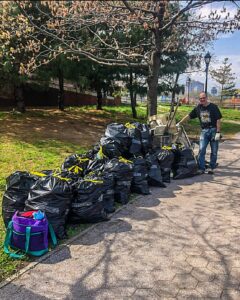 Over the years, Joseph has collected thousands of pounds of garbage and was even given a delivery truck to fill each day when he was based in New York.
"It was awesome," he said. "We had so many crewmembers show up to help. It's always overwhelming to see an area covered in trash and then become a rehabilitated area. It inspires me and keeps me going."
With so many wanting to be involved, Joseph created a Facebook group called "Eco-Crews," to provide information about upcoming cleanups. Besides picking up trash, the group plants trees at least once a month to help offset carbon.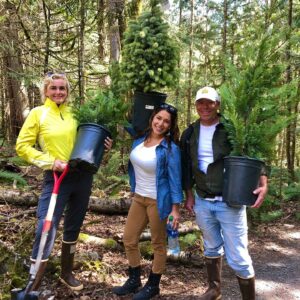 "It's been great to see all the support, especially from the SkyWest family," said Joseph. "Everyone that I've dealt with has been great and positive and that's why it was an easy choice for me to come to SkyWest. With a positive culture, great work environment and great morale, there's no place I'd rather be."
And while Earth Day are highlighted in April, Joseph hopes it's the first step, for many, to do something each day all year long.
"It's important to remember that we can all do something each day," he said. "People don't have to go and do big cleanups. Just picking up a piece of trash each day makes a difference. It all adds up and every little bit counts."
Learn more about SkyWest's sustainability efforts here.