---
This last month, MSP based Flight Attendant Casey Buchanan was able to have a unique experience with her mother Maureen Buchanan  – Flight Attendant, LAX when they flew their first trip together!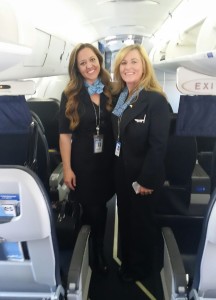 "We had been trying for months to work together, since we're in different bases, and it finally happened!" Casey said. "We both learned for each other, which was fun for us."
Maureen started at SkyWest five years ago, and from the beginning she talked to Casey about joining the company.
"My mom always wanted to be a flight attendant, as did I. We both love adventure and meeting new people. She had always put things on hold so she could be at home with us girls. It was her time to do something for her, that she always wanted," Casey said. "Watching her go after a lifelong dream of being a flight attendant when I was 19 was very inspiring. She not only went after her dream, but has accomplished it and grown from the experience. She is funny, hardworking, easy to talk to and doesn't give up. As flight attendants we have brutal days, as a mother you have brutal years – especially raising three daughters – and she never gave up on us or on her dreams."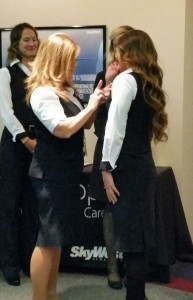 Maureen was able to pin on Casey's wings this past September and as Casey explained, has been her rock during her first year as a flight attendant.
"She would text me every morning to say good luck and she sat up with me some nights during training and my first few months when things got hard. I wouldn't have been able to make it through without her, once again, being my cheerleader," Casey said. "She's the best mom I could ever ask for and I am so happy to be following in her footsteps here at SkyWest!"
"We both love to work with people and give excellent service. We also love to travel and are very spontaneous," added Maureen. "We love working for SkyWest. SkyWest is family and so are we and we feel this is our home."
---
One mother-daughter team that loves to fly together is Jessica Henline – director of InFlight training and her mom, Kaye Manrique – Flight Attendant, SLC.
"When we fly together it's like a mini-vacation!" Jessica said. "It's so much fun! My mom is not only an amazing person and mother but she is the best flight attendant I have ever flown with!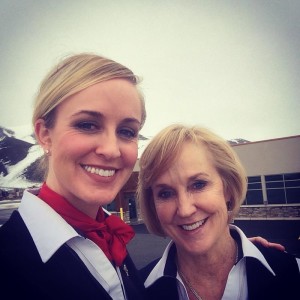 Kaye came to SkyWest in 1990 and has been a flight attendant (and held many positions in the InFlight department) for 26 years!
"I was raised with my mom being a flight attendant and grew up with the SkyWest family. People say aviation gets in your blood and I certainly agree with that!" said Jessica. "The career is like no other career in the world."
Jessica explained that both her and her mom love being around people and making a positive impression on their day, so that is ultimately why they love their jobs.  Jessica went on to praise her mom saying, "My mom's caring and giving heart is what makes her a great mother and flight attendant. She truly cares about the passengers and people in general and having her as an example in my life is part of what has made me the person, mother and flight attendant I am today."
---
And just a few days ago, Jennifer Wilson – Flight Attendant, LAX celebrated her fifth year with SkyWest and there to surprise her and present her with her five-year anniversary wings was her son Julian Jenkins, Manager of InFlight Services.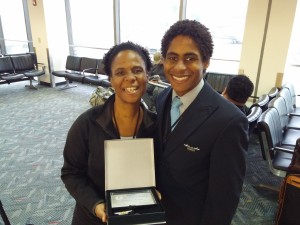 "Presenting her with her wings was a cool experience. She pinned my wings when I graduated from training and I was grateful for the opportunity to return the favor," Julian said. "She started as a flight attendant a little over a year before she inspired me to do the same."
While Julian and Jennifer haven't had the chance to fly a trip together, they have traded planes with one another and enjoyed being able to meet up on breaks.
"Anyone who flies with her can attest that she is always a cheerful worker. She talks and smiles and connects with her crew and customers. She makes an excellent flight attendant because she has a passion for serving others and acts accordingly," said Julian. "She's a great mom because, among other things, she gave her best to her three boys and provided us with luxuries that she did not have while growing up. We have excelled because of her love, and we honor her for her dedication."
---
Come join the SkyWest family! You can find information about SkyWest careers here.