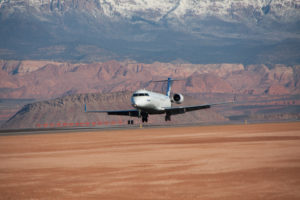 From the moment an aspiring pilot completes an application and passes a pilot interview, they start to experience this unmatched training first hand; staring with the SkyWest Certification Training Program (CTP).
"CTP was both hard work and a lot of fun," SkyWest First Officer Cory Schenker said. "It's very easy for this wealth of new knowledge to become overwhelming but SkyWest utilizes just the right people with just the right enthusiasm to keep it fun, engaging and highly informative."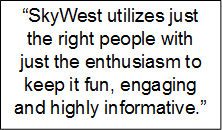 Once a pilot's application and interview have been accepted, SkyWest will provide the means to complete a SkyWest approved CTP course, which introduces pilots to SkyWest's rigorous training, while also preparing them to have a smooth transition into ground school.
"I thought [CTP] was great, especially for people like me coming straight from general aviation," SkyWest First Officer Adam Crismon said. "It was nice to have an introduction into jet aviation and a basic understanding of what to expect before training. I really enjoyed the classroom information and how it directly related to SkyWest instead of a generic example."
Part of what sets the SkyWest CTP course apart is that the instructors are all current SkyWest pilots.
"For me, the real benefit of CTP is that the same instructors teach both CTP and the new hire classes," Cory said. "I didn't realize just how much the instructors were preparing me to succeed."
Another benefit of the SkyWest CTP course is that students will be training in the aircraft you will be flying as a pilot at SkyWest. The 10 hours of simulation time will also count toward your total hours.
"I really liked the fact that we were in the same type simulator as what we were going to be flying and training in," Adam said. "I found that as a huge step up and boost in training efficiency."
"The 10 hours you get in the sim during CTP is extremely valuable," Cory said. "Becoming familiar with SkyWest procedures, callouts and the airplane itself takes time. When I began sim training I was able to hit the ground running as opposed just get familiar."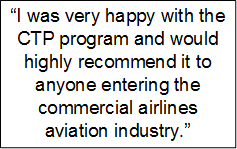 Travel and hotel accommodations, a 65 hour monthly training guarantee, and a CTP study partner are just a few of the other benefits pilots who go through SkyWest's CTP have.
"Overall I was very happy with the CTP program and would highly recommend it to anyone entering the commercial airlines aviation industry," Adam said.
From day one, SkyWest Airlines gives pilots industry leading training. It's just one of the many reasons SkyWest pilots have more opportunities than any other regional pilot and are sought after by every major airline. Take Control of Your Career. Apply online today.