While Wisconsin is widely known for being the land of cheese, communities like Eau Claire also provide visitors with a huge variety of recreational activities and unique adventures that will make any trip unforgettable.
Located on the western side of Wisconsin, Eau Claire (pronounced O'Claire) is the Kubb Capital of North America. Kubb is thought to have originated with the Vikings and is often described as a combination of bowling and horseshoes. During the last several years the sport has seen a spike in popularity in the U.S., and in Eau Claire in particular where every summer they host the U.S. National Kubb Championship. This multi-day competition draws hundreds of people to several local parks where they have the chance to go head to head in an effort to earn a spot in the championship match.
For those interested in less organized sport, Eau Claire offers many more activities for vacationers. During the summer, there are trails a plenty for hikers, bikers and even inline skaters. They city actually maintains more than 21 miles of trails, including a section of the popular Chippewa River Recreation Trail that stretches more than 30 miles in total.
For music fans, Eau Claire is the perfect home base for anyone looking to enjoy the nearby Country Fest or Rock Fest held in Cadott, Wisconsin – just 24 miles away. The area is home to a natural 380-acre amphitheater, making it the perfect venue for musician lovers to see some of the biggest names in the music industry.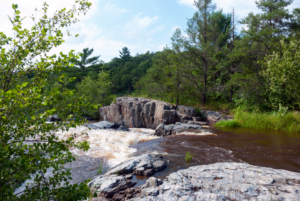 Of course, no trip would be complete without the chance to check out some of Eau Claire's fine wineries, microbreweries and distilleries. The Lazy Monk Brewery offers tours and a tasting of their traditional Czech and German Lagers on several days throughout the week. For a more refined palette, check out the urban winery and distillery at Infinity Beverages in downtown Eau Claire to enjoy a great atmosphere and even a chance to see how they create some of their incredible spirits.
Whether joining the Kubb National Championship, enjoying the outdoor beauty the area has to offer or rocking out to your favorite band, come see everything Eau Claire has to offer! Daily United Express flights operated by SkyWest Airlines from Chicago to Eau Claire make it more convenient than ever. Book today at united.com.