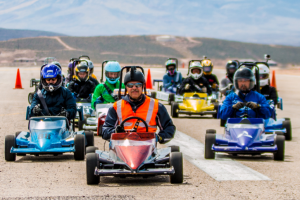 SkyWest Airlines' Mini Indy 2014 is a wrap! In March, 30 companies from around the world traveled to St. George, Utah to compete in a go-kart race. Why would multi-billion dollar companies travel Utah to drive a go-kart that travels 23 mph? Other than the intense racing action, these racers gather for a greater cause – helping those in need!
Mini Indy is an annual charity event that takes place in SkyWest Airlines' hometown – St. George, Utah. Every year, hundreds of people from companies around the world come pouring into St. George for four days of adrenaline pumping competition including go-kart racing, pit-stop competitions, golfing and fine dining.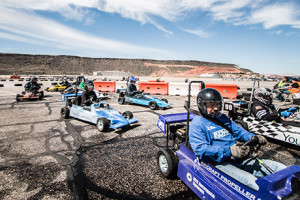 Over the last 14 years, SkyWest Airlines, in partnership with the City of St. George, has raised more than a million dollars for the United Way Dixie, an organization that funds 16 community partners like Habitat for Humanity and the Dove Center.
To put it into perspective, thanks to the funds from just one Mini Indy, 23 families were moved from the streets to permanent living conditions, 12 children were placed with a Big Brother, Big Sister mentor, and 171 domestic violence victims received legal representation. And these success stories come from just three of the 16 organizations that receive funds from Mini Indy. SkyWest is committed to giving back to the communities where employees live and work, and Mini Indy is just one example of that focus.
While SkyWest Airlines' Mini Indy is an opportunity for companies to network, mingle and have a good time, the impact stretches far beyond the track. It directly influences the lives of those living and working in Southern Utah.