Moab, Utah is rapidly becoming known as the adventure capital of the United States thanks to its thousands of miles of biking trails, access to two scenic rivers and world class hiking for people of all skill levels. While it's true that there are other destinations that offer the same activities, few can compete with the beautiful backdrop of red sandstone and hundreds of natural arches sprawling across the two national parks.
With new, daily Delta Connection flights, operated by SkyWest Airlines, visitors can now take in the beauty of Moab with a bird's eye view before touching down at Canyonlands Field and heading off to experience the adventure of a lifetime.
For the outdoor enthusiast that enjoys hiking and camping, Arches National Park is first on the agenda. With the largest concentration of natural sandstone arches in the world and numerous other astounding geological formations, the park is the perfect location to fulfill that burning need for adventure. There are several shorter trails that are ideal for the whole family or longer trails that will test the will but reward those that tackle the challenge. The Double-O Arch, Tower Arch, Delicate Arch, Landscape Arch, and Devil's Garden trails are must see attractions for those that visit Arches. And with plenty of camping throughout the park, visitors can spend time seeing it all.
Famous for its incredible mountain bike terrain, including 100 miles of White Rim Road at the Island in the Sky, Canyonlands is the largest National Park in Utah. From the Island in the Sky, bikers can ride while overlooking the natural wonders of the park. Canyonlands also provides access to two breathtaking rivers. The Colorado River and Green River cut through layered sandstone to form two deep canyons, perfect for canoeing, kayaking and other shallow-water activities. Upstream from the Confluence, the rivers remain mild for beginners or families. Below the Confluence, the combined flow of the two rivers spill down Cataract Canyon with remarkable speed and power, creating world-class white water rapids.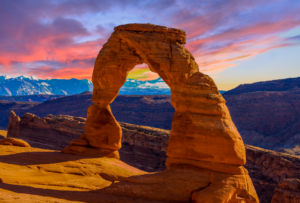 Of course, after a long day of fun and adventure, Moab visitors are sure to have a healthy appetite. Nothing tops off the day better than a trip to Jeffrey's Steakhouse and Ghost Bar located in the heart of Moab. Enjoy premium Nebraska steak and fine wine that will surely leave the body relaxed, refueled and ready to tackle tomorrow's adventure.
Getting to this exciting getaway is now more convenient than ever thanks to the new Delta Connection flights operated by SkyWest Airlines. Book the vacation of a lifetime in the adventure capital of the U.S. by visiting www.Delta.com where the best fares are always found!