SkyWest teams provide impeccable service to hundreds of thousands of passengers every month, including veterans and active members of the military. This has provided a variety of opportunities to recognize them for their service and has sparked some unforgettable friendships. Here are just a few recent examples.
Navy SEAL Reunion
The following is from Marianne Seibert who was traveling with her husband on SkyWest-operated flights from Kansas City, Missouri (MCI) to San Diego, California (SAN).
We were traveling to San Diego for my husband's Navy SEAL reunion. Once on board, we couldn't believe how friendly and helpful the flight attendants, Grace Pakiser and Sandra Robb, were. They never sat down and were constantly checking on the needs of the passengers and having conversations with them. When it came our turn to tell the flight attendant about our travel plans, we told her about my husband being a Navy SEAL, how he graduated from SEAL Training in 1969 in SAN and that we were traveling back for his 50-year reunion. We weren't sure if we would make it to the reunion because of my husband's health problems, so we were very excited.

Later, we were exiting the plane and I thought my husband was right behind me. I turned around to see he was still in the aircraft talking to the pilot. The flight attendant had told the captain, Zack Brown, about our trip and he told my husband he lived near the reunion celebration. My husband invited him to attend but I thought there was no way he really would.

Zack came to the reunion! He was so engaging, likable and wonderful. He stayed with us for three hours and by the time he left, we invited him to our ranch this fall to help gather cattle. We made a real friend in Zack. I asked if he would be our pilot on the way back and he said he wasn't sure, but he'd make sure we were taken care of.

We were the first to board the plane on our way home Monday. When we got on, the flight attendants, Stacy Gobert and Erin Galbraith, were expecting us. Zack had emailed them and told them to take good care of us. As the plane was taxiing, Stacy made an announcement that we were onboard, honoring us and congratulating John for his service and his 50th year SEAL team graduation celebration. After the clapping was over, and as we took off, a military band rendition of Anchors Away was played over the intercom. My husband and I looked at each other with tears in our eyes.

I wasn't surprised about the great service we had on the flight back because of how excellent it was on the way there. Whenever I have a chance, I'm going to fly SkyWest.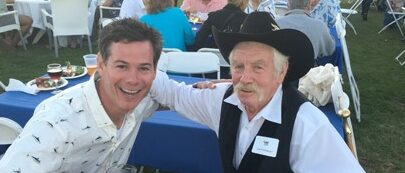 Honor Flight
In late September, SkyWest had the opportunity to welcome 35 Vietnam veterans and their family members onboard a new flight from Watertown, South Dakota (ATY) to Chicago (ORD) as they were making their way to Washington, D.C. Teams on the ground and in the flight deck did a great job making it a memorable trip, including red carpet treatment from the ATY airport operations agents and special announcements made by the flight crew.
The veterans were heading to the capitol in honor of their service and to visit monuments in the area. The special group consisted of veterans from South Dakota and Minnesota and, for many of them, it was their first flight since returning from the war.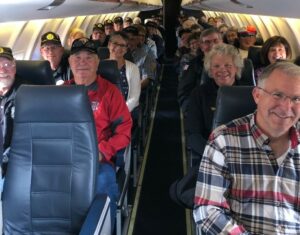 Utah Patriot Partner
SkyWest has been recognized by Utah Governor Gary Herbert as a Patriot Partner. The recognition is thanks to the work being done to extend priority considerations and enhanced hiring opportunities for the men and women of the armed forces. SkyWest is a proud military employer and is home to more than 1,600 men and women who have or are currently serving in the military.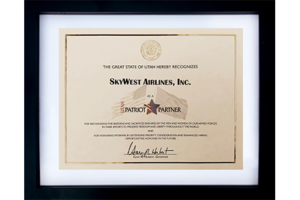 SkyWest team members do a great job every day to provide exceptional service and to recognize the men and women of our armed forces. Click here to learn more about how you can get started with our incredible team.