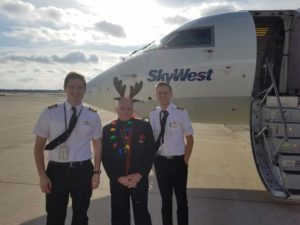 SkyWest's industry-leading team works together every day of the year to carry more than 30 million passengers to 202 destinations throughout North America. Recently, the SkyWest team had the opportunity to take some very special passengers to a magical destination not found on a SkyWest route map: the North Pole!
SkyWest Fantasy Flight in Colorado Springs and the Flight to the North Pole in Milwaukee brought joy and the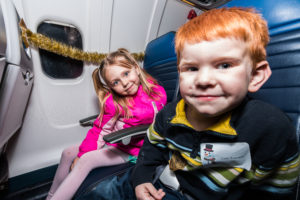 miracle of the holiday season to children living below poverty level, children with special needs and children suffering from serious illness. The generous efforts of SkyWest people helped create
treasured memories for these children that will last a lifetime.
The Flight to the North Pole helped brighten the season for 14 children suffering from serious illness and their families as they boarded two SkyWest CRJ200s and took a 20-minute ride to the "North Pole" (a nearby hangar decked out in holiday style!). While the ride was a short one, it provided much needed smiles and wonderment to all onboard.

The 10th annual Fantasy Flight in Colorado Springs took 49 eager children to meet Santa Claus at the "North Pole" as well! These tiny passengers, many of whom would otherwise  receive little to nothing on Christmas morning, filled the CRJ700 with holiday cheer as flight attendants led the children in Christmas carols on their 30-minute journey.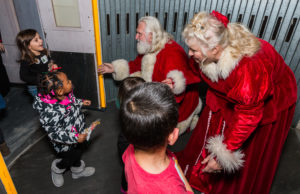 As the families deplaned, they were greeted by mascots, carolers and Santa Claus himself! The "North Poles" in both Milwaukee and Colorado Springs were a child's Christmas dreamland, complete with crafts, games, a Christmas meal and gifts from their wish lists. The goal: to provide happiness and cheer, even if for just one day. The smiles on the faces of everyone involved proved they did just that.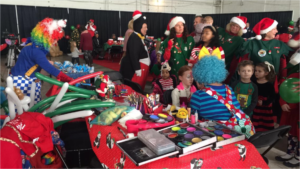 A special thanks to all of our team members, from Maintenance and Customer Service to Flight Ops and InFlight, for their efforts to spread holiday cheer to our special passengers. These events are just another way SkyWest people give back to the community and share the miracle of flight with even the smallest of flyers!