As 2015 comes to a close, it's time to take a look at some of the exceptional service that SkyWest employees have provided during the past 12 months. The following are seven of SkyWest's top service moments of 2015.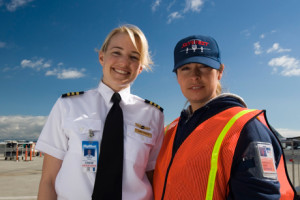 Flight Crew Brings Family Together One Last Time
When the Vandenberg siblings received a call that their mother's health had taken a turn for the worse, they immediately booked their flights to reach her. When a delay made it seem like they would never make their connecting flight in Denver, the SkyWest crew on board went above and beyond to help get the Vandenbergs onto their next flight moments before it left the gate. Thanks to the efforts of crewmembers on both flights, the Vandenbergs were able to spend precious final moments with their mother.
"The little things in life matter, as they add up to big things. And, in doing the little things very well, your flight crews allowed us the precious moments with our mother that we would have missed otherwise," wrote Thom Vandenberg. "For that, we want to express our heartfelt thanks and recognize a job very well done."
First Officer Gives Wings to Young Cancer Fighter
A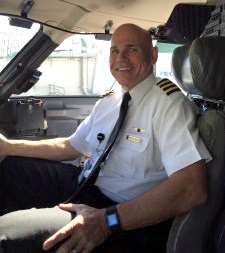 brave six-year-old girl was fighting cancer and having a tough day when she met Joe Myers, a SkyWest first officer, on the shuttle ride to the airport. Joe immediately began trying to make her day better and by joking with her. He even removed the wings from his shirt and pinned them on her, telling her he was making her an honorary pilot. The little girl's parents said that she wouldn't part with the wings and even slept in her shirt that night with the wings safely secured on it.
"I was blessed that night," said Joe. "That little girl touched my heart and gave me far more than I could have ever given her. When I pinned my wings on her, I told her that she could fly with me anytime. Maybe with some prayers she will be able to fly for SkyWest someday!"
Read more about Joe's experience.
Pocatello, Idaho Team Helps Passengers on a Diverted Flight
When a mainline United flight unexpectedly diverted to Pocatello, Idaho, the SkyWest team on the ground immediately stepped up to the plate. Although they normally handle Delta flights, Linnea Chidester, the Pocatello station general manager, and her team demonstrated stellar service as they helped dozens of United passengers arrange lodging and buses to their final destination in Jackson Hole, Wyoming.
"It was a tough situation, but the airport staff did an outstanding job," said one passenger. "They were all very friendly and helpful and kept cool in a difficult situation. I had never been to or even heard of Pocatello, but the airport staff made a great first impression!"
Lost Toys Find Their Way Home
It was one of the most amazing acts of sheer kindness she had experienced in a long time. That's how Jaimi Nielson described her interaction with Erin O'Shea, a SkyWest flight attendant, after Jaimi's son, Owen, left his bag of toys at the gate before boarding his flight. Owen was distraught over losing his prized collection of LEGOs, his "best friend" (a well-loved stuffed lizard) and his storybooks that were inside his bag. Simply because she wanted to help, Erin jumped on a flight to San Francisco – instead of heading home like she had originally planned – where she picked up Owen's lost bag of toys.
"We asked her why she would be willing to do this, "Jaimi said. "And she simply said, 'Because he captured my heart.'"
Read more about Erin's extra effort.
ACV Welcomes Special Passengers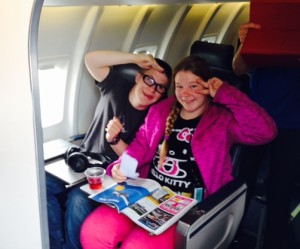 SkyWest's team in Arcata, California (ACV) meets a variety of passengers on a daily basis. And this past spring they had the chance to welcome a very special group of passengers to the airport as they helped 12 children with Autism and Downs Syndrome experience the operation and the miracle of flight.
"I'm not sure who had more fun: us or the kids!" said ACV general manager Angeline Vanden Plas. "We all had such a great time."
Check out more details and photos from this special event.
SkyWest Flight Attendant Angelic Fluker Becomes an "Angel in the Sky"
While boarding a SkyWest flight, a passenger received tragic news that her husband of 19 years had passed away. Chicago-based flight attendant Angelic Fluker's compassion sparked a day of caring for this grieving widow. Angelic not only checked on the passenger throughout the flight, she accompanied her on an additional flight home on her day off so that the woman wouldn't have to travel alone.
"I told her over and over that I would not know what I would have done without Angelic in my life that day. She was my angel," said the passenger.
Don Mortimer, GCC Cross Utilized Agent Helps Soften Last Goodbye
On Aug. 22, a couple was traveling through Gillette, Wyoming when they received a phone call no parent ever wants to receive. Their son had been in a tragic car accident and was being taken to the hospital back in their home town. Don Mortimer, a SkyWest cross utilized agent in Gillette, was there to help in a way they will never forget. He stayed with them for two hours after the airport closed to help the family find a way home and to get checked in. The next morning, Don met them at the airport and flew with them on the first leg of their trip to make sure they made their connection. Thanks to Don's help, the parents were able to be with their son for his final day.
"Thank you, Don, for giving us those last few hours with him. We will forever be grateful," said the father. "We just wanted SkyWest to know that they have a very special person working for them and he went above and beyond."
Learn more about the help Don provided.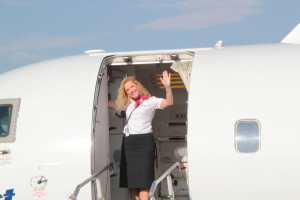 SkyWest is made up of an amazing group of more than 11,000 people who deliver incredible service every day. And this list is only a small glimpse of the countless times SkyWest employees have gone out of their way to help more than 30 million passengers in 2015!