As the new school year begins, 32 SkyWest Airlines employees and family members will pursue their higher education aspirations with a little help from the SkyWest Scholarship Program. This year SkyWest awarded 32 scholarships totaling $40,000 in recognition of outstanding academic achievement, helping our SkyWest people and their families pursue their educational aspirations.
This year's scholarship recipients come from a variety backgrounds and represent a wide range of academic ambitions. One of our Presidential Scholarship recipient – Jessica Harris – plans to pursue a dual degree in Aerospace Engineering and Applied Math with a minor in Economics. Upon graduation she hopes to focus on improving our nation's security by contributing to the field of satellite surveillance and research. Another Presidential Scholarship recipient – Tara Pendleton – plans to use her scholarship funds to study Engineering while maintaining a focus on international development and service. From college freshmen to graduate level studies, each of the recipients has shown their ability to excel and SkyWest is proud to fuel our next generation and help them achieve their dreams.
Recipients were selected by the SkyWest Scholarship Committee comprised of employee representatives, who assessed each applicant individually based on a number of criteria, including GPA, career interest, extra-curricular activities, future goals, unique challenges and a letter of recommendation. Applicants to the program are each high achievers, proving that SkyWest is home to some of the best and brightest in the industry!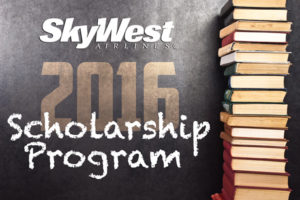 The SkyWest Scholarship Program was introduced in 2003 and has raised more than $400,000 to assist the higher education of more than 500 members of the SkyWest team and their eligible family members. These funds are raised by donations from fellow employees in conjunction with SkyWest's annual Mini Indy.
Congratulations and best of luck to all 32 of the 2016 SkyWest Scholarship recipients!