For brothers Robert and Cory Rice, SkyWest is quite literally part of the family. Inspired to become pilots by their father, retired SkyWest Captain Brent Rice, Robert and Cory told us about how aviation, and SkyWest, runs in their blood.
"Before my dad got into flying he was in a high stress business," said Captain Cory Rice. "I saw him so much more as a pilot than with his old job; he flew for SkyWest from 1986 to 2000. He had a good time flying."
Captain Robert Rice continued, "I had never seen him happier than when he made the switch to flying at SkyWest. He switched to doing something he loved and getting paid to do it. It was a completely new, challenging experience. [I learned to] make sure you do something you love and love what you do. Then, when you're working it doesn't feel like working."
Cory remembers early on his dad would talk about how great SkyWest and the lifestyle was.
"It was definitely a SkyWest family that I saw firsthand," said Cory. "He had made so many friends and loved it so much, that it inspired us all to do our flight training as soon as we could."
And by all, he means all four of the Rice siblings! Their little sister also flew for SkyWest and their oldest brother also received his pilots' licenses, and the siblings had the rare chance to train together and fly together over the years.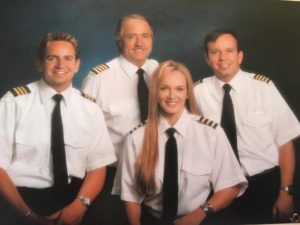 Robert remembers flying in the EMB120 Brasilia with his dad – he even had the chance to fly with him for an entire month! When asked what he learned from that experience, Robert said, "What I learned is you can be a safe pilot, obey all the rules and still have fun. If you treat your fellow workers with kindness and respect you always get the best effort."
"My dad is a pretty laid back guy and he taught us to be laid back and rational and to never jump to make a bad decision," said Cory. "That and the value of friendships within the company. It's where I've met my closest friends."
At least one Captain Rice has flown at SkyWest over the past 31 years, and they've seen plenty of changes to the airline and the industry. Still, some things haven't changed at all.
"Even though SkyWest has gotten much bigger than when I first was hired, it still has that family feel," said Robert. "I found out long ago from my Dad's example that this job is what you make it; respect everyone and enjoy life!"