Julie Hafen – a CRJ first officer for SkyWest Airlines, discovered aviation as a teenager and has been hooked ever since. Check out how she got started as a pilot and what a typical day is like for her at SkyWest.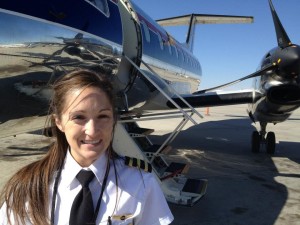 As a teenager, I always thought I would enjoy flying and traveling for my career, but it never occurred to me that I could actually be the pilot until I was 17 years old. I took an intro to aviation class at my local college and fell in love with aviation. Problem was, however, that I had never even set foot on an airplane, let alone flown one. So for my 18th birthday, my parents flew me to Texas, where my grandfather, who had his private pilot's license, took me flying.
When I got home from that trip I immediately registered for the aviation degree at Utah Valley University and started my training in the fall of 2003. A few years after I started my schooling and flight training, I earned my Certified Flight Instructor (CFI). I instructed for five years because I got hooked – hooked on the feeling of being able to help others earn their wings…giving others their dreams. For me, it was by far the best way to build time toward becoming a commercial pilot.
I decided to apply at SkyWest Airlines after attending the Women in Aviation conference in 2012. I was happy fight instructing, but after speaking to the numerous pilots at the SkyWest booth, I decided I wanted to take the next step and become a SkyWest pilot. There were many airlines I spoke to at this conference, but the pilots at SkyWest were the most friendly and easy to talk to, and it was clear that they enjoyed their careers. After months of studying I felt ready for an interview and submitted my application.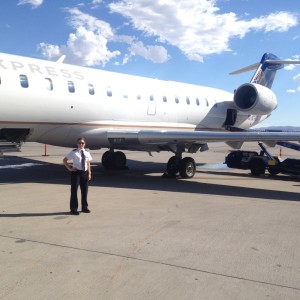 SkyWest interviewed me shortly after, and I was officially hired only days after my interview. Once hired, I had two weeks to get all my documents ready and to prepare for ground school. Training was a whirlwind of more learning than I even knew possible, but it was worth it. It took me a few months after training to feel completely comfortable as a first officer, but I knew I made the best decision by changing my career from a flight instructor to an airline pilot.
Here is a tiny glimpse of a day in my life at SkyWest:
I show up for work at least 45 minutes prior to our first departure and spend a few minutes meeting the crew; I have had the opportunity to fly with some pretty great captains and flight attendants at SkyWest. Together we look at any deferred items on the aircraft (inoperative items that are not required to be fixed immediately), the weather and any other pertinent information for the flight.
Once we head out to the aircraft we each have our duties that need to be completed before we depart. Typically the first officer is the one to do the walkaround/preflight inspection while the captain completes some checklist items.
After the passengers and baggage are on the plane, we complete a weight and balance (it's not just something for general aviation), and figure out our speeds for takeoff and cruise. On the plus side, we don't always have to do it by hand.
Before we start the engines for the first flight each day – we might fly one to six legs in a day – the captain and I decide who will fly which legs. Some captains like to alternate each leg, some like to always fly first… it doesn't really matter, but know that you will generally be flying as much as the captain is – they don't get to have all the fun. And whoever is flying will do a briefing before each flight including the current weather, expected taxi route, departure procedure, pertinent NOTAMs, etc.
If we are done with our day early enough, we will usually get together as a crew to do something fun. There are such great people at SkyWest, it is great being able to hang out outside of work and to get to know each other a bit better.
My quality of life at SkyWest has been so much better than it was as a flight instructor. As an instructor I worked 10-14 hour days for five or six days a week. It was rewarding work, but it was a lot of work. At SkyWest, I usually work four days a week and get paid for more hours than I did when I was teaching. I am also able to be home much more and spend time with the people that matter most to me. Quality of life is very important to me, which is one of the reasons I chose SkyWest over the other regional airlines out there.
Flying isn't really work for me; it's more like a hobby that I get paid for! Of course there are frustrating days that get interrupted with weather or maintenance delays, but for me those days seem few and far between. I am happy with the career I chose. I have been at SkyWest for almost three years, flying the EMB 120 Brasilia and now the CRJ, and have never regretted my decision to work for such a great company.