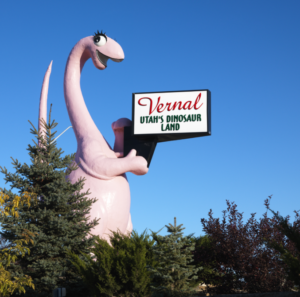 Where in the world is Vernal, Utah? While it may appear to be just a small community in northeastern Utah, Vernal is home to stunning scenery, unparalleled recreation areas and even some prehistoric remains. Visitors and residents alike enjoy the adventure and excitement this community offers!
First-time visitors should not miss the chance to step back in time at Dinosaur National Monument. With more than 1,500 dinosaur bones – including some 149-million-year-old fossils that can be touched – and the legendary "Wall of Bones," the facility is beyond impressive. Presentations and exhibits are also available to explain more about the quarry and the dinosaurs that it contains. After exploring the Jurassic world, don't forget to take advantage of the whitewater rafting, hiking and camping that's available within the Dinosaur National Monument.
Just north of Vernal lies the High Uinta Wilderness. The area was established in 1984 and is the largest wilderness in Utah at more than 460,000 acres! Here, visitors discover the peaceful backdrop of beautiful, pristine mountains with areas that are perfect for everything from hiking, fishing and horseback riding, to backpacking and hunting. For those with a less rugged constitution, the splendor of the Uinta mountains can be enjoyed by driving along Highway 150, formerly known as Mirror Lake Scenic Byway. This route stretches 42 miles through the mountains and forest from Kamas, Utah to Evanston, Wyoming and affords some of the most stunning high-mountain driving views anywhere in the nation.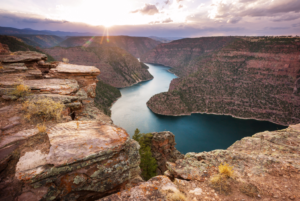 Vernal is also proud to be a gateway for Flaming Gorge National Recreation Center; which attracts more than two million visitors per year. Flaming Gorge consists of more than 207,000 acres of water and land with the Flaming Gorge Reservoir being one of the top attractions as it provides outstanding opportunities for houseboating, fishing, skiing and other water sports. Fishing enthusiasts in particular may be challenged to find a better locale outside of Flaming Gorge where it's not uncommon to haul in 30-pound lake trout, along with rainbows, brown trout, kokanee salmon and smallmouth bass.
From the high mountains to desert scenery and everything in between, Vernal is a virtual paradise and center for adventure and excitement in the great outdoors! Book a convenient flight right into the heart of the action on a SkyWest-operated Delta Connection flight at www.Delta.com today!