A passion for the miracle of flight is one of the most common motivators for people joining the airline industry. And finding others who share that passion can lead to great relationships and, in some cases, even the love of their lives. This Valentine's Day, we asked a few SkyWest couples to share how SkyWest helped them find each other.
Kelli Golden, air transportation supervisor, and Gage Wuthrich, dispatch supervisor, are preparing for their upcoming wedding next month. They initially met when they were assigned to the same shift and became friends. From there, the relationship quickly blossomed.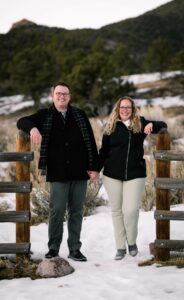 "Gage was my dispatch trainer," said Kelli. "So it was very natural for me to come up and talk with him and ask questions." After being friends for a while they decided to start dating and of course, the rest is history.
Still, they kept their work and personal life separate for a while.
"Some of our co-workers didn't know we were dating until they got our wedding invitation," Gage said.
Kelli added that it's great to share the same schedule, so they can sleep by 8 p.m. on the weekend — since they're at work before the sun comes up. Of course, while they enjoy the camaraderie, sometimes they have to give each other space since they work just a few feet away from each other. At the same time, the couple noted that their shared understanding and passion for aviation has brought them closer together.
***
Dontay Riley, manager of flight attendant performance, met his fiancée Matt Frisbie when visiting Salt Lake City during a work trip. The two met during flight attendant training and the rest has been history. 
"We met when I was in Salt Lake City training SkyWest flight attendants. We really hit it off," says Dontay.
Because he was traveling from Chicago to Salt Lake City often, Dontay and Matt were able to see each other regularly and their relationship grew. After dating for six years, the couple was engaged last March when Dontay proposed in Puerto Vallarta. The couple is excited to marry in the same city in late October!
***
CRJ Captain Timothy Grunden and Flight Attendant Phiola Grunden first met when they were assigned as crewmembers on the same flight. It was Phiola's initial training day and Timothy was in the process of upgrading from first officer to captain. For dinner one night, Timothy told the rest of the crew he wanted to go out but no one else wanted to go.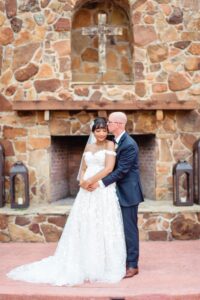 Timothy recalls, "Phiola must have felt sorry for me."
They continued their separate journeys from there, but the two reconnected later after Phiola learned that Timothy had finished his upgrade via a mutual friend on Facebook. She reached out to congratulate him on the promotion, and a few Facebook messages later the couple was dating. Phiola and Timothy got married in July last year, after dating for two years and moving between domiciles to be closer together. They have since welcomed home a baby boy, whom the couple says is destined to work in the aviation industry.
***
Dispatcher Bryan Button, and Vanessa Button, crew scheduler, originally met in San Diego, but said working in the same building at SkyWest has brought them closer. When Bryan moved to St. George, Utah, he planned on flying back to San Diego to visit Vanessa every few weeks.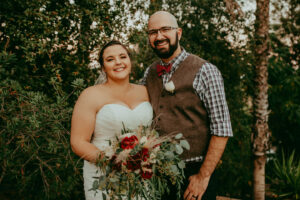 But the distance was no match for this couple. Vanessa surprised him and, despite being away from each other for five months, the couple only went one weekend without seeing each other! After Vanessa finished her degree in San Diego, she moved to St. George to be closer to Bryan and joined the SkyWest family as a crew scheduler in 2018. The couple was married in October last year and have enjoyed the unlikely aviation pairing of a dispatcher and crew scheduler.
Bryan and Vanessa say their relationship helps them understand and learn more about what the different teams do and how they work together to make the airline work.
"It's fun because I am asked dispatch questions from my team, and dispatch will come over to my desk and ask me scheduling questions," said Vanessa.
The couple also mentioned that understanding the very specific "airline speak" makes it easy for them to talk about what happened at work and the other being able to immediately understand what their spouse means.
***
David Furlong and Randy Villanueva are both flight attendants in Chicago.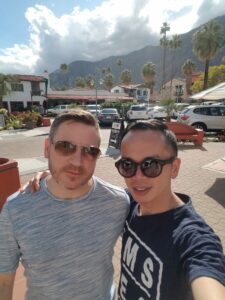 They meet in 2005 in Sacramento, and after David told Randy about being a flight attendant, Randy quickly joined the SkyWest family. The couple was married in 2014 after being joined in a civil union since 2012. Randy said working with his partner is great because they know what each other needs.
"We had a medical emergency a few months ago and I just had to look at Randy and he knew exactly what I needed." The couple said most of the time other crewmembers don't know they are married, but love to work with them because they are such a great team.
***
Each couple had insight and advice to share for dating and marrying in the airline industry.
Bryan and Vanessa said the airline attracts a certain type of person who makes great friends and partners.
"We have the same friends, so even when Bryan is not at work, we go out with the same people," Vanessa said.
David and Randy both agreed having boundaries is important to their relationship since the couple often finds themselves working on the same flight. "It's great to work a plane with two galleys because it gives us that extra space," the couple said jokingly.
Timothy and Phiola said communication is key. Whenever Timothy is traveling, he makes sure he texts Phiola as soon as he can after he lands.
"Skype and Facetime are great because for four days we have a long-distance relationship," Timothy said.
Dontay said that they started to be more mindful of taking trips together. "We both take work trips often, so when we have the opportunity and our schedule allows we like to join each other on work trips," she said.
Kelli and Gage, noted the importance of respecting each other's space and enjoy having someone the can "talk shop" with. But their number one piece of advice was to be friends before you start to date. "You don't need to rush into it," said Gage.
All five couples said working together and speaking each other's work-language has helped each couple grow closer together. Each couple also mentioned how supportive their coworkers are to their relationships and how SkyWest really is part of their extended family.
To the more than 14,000 SkyWest employees and many more who share a love for all things aviation: Happy Valentine's Day!