Lucy Czupryn, a SkyWest Airlines E175 first officer based in Chicago, started her career as a pilot flying for a different 121 operator. She spent five years gaining valuable flight experience and building her seniority. Then, she shifted her focus to starting a family and left aviation.
"When I started my family, I wasn't sure that I'd be able to come back to aviation," said Czupryn. "SkyWest made it possible for me to come back to what I love doing. We have several programs to foster and encourage women to return to the workforce."
When Czupryn returned to the workforce, she decided to take advantage of the SkyWest Industry Experience Credit program. This program offers pilots a pay credit match for their years of FAR 121 experience, up to 10 years. The match also applies credit for 401(k) matching, profit sharing, and leave time accrual.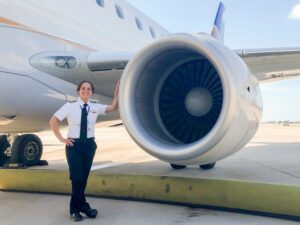 "Prior to that program, there wasn't anywhere to go to make a lateral move," said Czupryn. "The 121 program made it an easy choice to pick SkyWest because with my experience prior to my leave, I was able to start at SkyWest with a higher hourly wage. This program made it affordable for me to return to the workforce."
Czupryn also leaned on the SkyWest Family Support Committee as she balanced raising a family and returning to the skies. The committee, formed in conjunction with the SkyWest Airlines Pilot Association, is a group of SkyWest peers dedicated to supporting women and men through welcoming a new child into an aviation family. This committee provides support through the leave of absence processes, fitness for duty while pregnant and during postpartum, maternity uniform exchanges, pumping, or weaning in preparation to return to work, financial planning for parenthood and one-on-one mentoring.
Through this program, SkyWest provided Czupryn a stable and supportive place to resume her professional pilot career.
"With my flexible schedule, I get to fly and still spend quality time with my family helping at the school, watching their games and practices, or just cuddling and watching movies together."
Czupryn lives in Northwest Indiana with her husband and four children and loves taking her family on adventures. She enjoys seeing new places and expects her career to one day take her to the stars.
"When I was little, I always wanted to be an astronaut," said Czupryn, who is still striving for space. "I love flying. I love being above the clouds and looking out at the world."
With her parents' support, Czupryn grew up attending science camps and classes at local college campuses. She learned to assemble computers and studied successful women, including her own mom. Czupryn's mother graduated from Purdue University in the first class of computer science majors and set an example for her daughter of being a woman in a male-dominated field.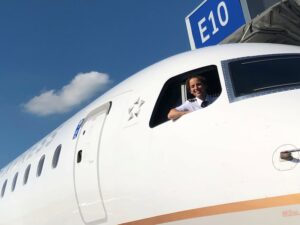 In high school, Czupryn set her sights on becoming a professional pilot. She followed her mother's footsteps to Purdue, where she earned a bachelor's degree in professional flight and a master's degree in aviation technology while flight instructing to gain flight hours.
"I love the technical challenge of operating aircraft. It's exhilarating to take off and land such a large vessel and bring people safely from point A to point B," said Czupryn. "Connecting people to important events in their lives brings me enjoyment as well."
Czupryn is one of several SkyWest employees who attended the 2020 Women in Aviation International conference. She encourages prospective aviators to keep studying and work hard. "Don't give up. Find other professionals in the field to talk to about their journey," Czupryn advises. "And make sure to check out 'SkyBest'!"
To learn more about the opportunities available at SkyWest and how you can receive industry experience credit, click here.