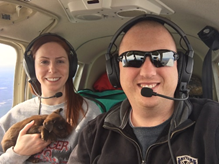 When First Officer Brian Lucas is not flying for SkyWest, he spends his time flying his Piper Cherokee to volunteer with different organizations in need of a plane and pilot. Lucas started volunteering his time as a pilot as a way to build hours en route to becoming a commercial pilot. He enjoyed volunteering so much he has continued his philanthropic flying even after he joined SkyWest.
Recently, Lucas flew his own aircraft for the nonprofit group Angel Flight, carrying blood samples for COVID-19 testing. The flight took him from Navicent Health in Macon, Georgia to a commercial lab in Charlotte, North Carolina since the facilities in South Georgia are not able to handle all the testing capacity that is required.
Lucas continues finding ways to give back to our national community through his  skills as an aviator. He also works with a nonprofit organization called Pilots N Paws, which arranges rescue, sheltering or adoption flights for needy animals. His mission   is to fly puppies from kill-shelters to locations where they are more likely to be   adopted. Lucas said he has even flown a German Shepherd puppy to a facility that   will train the pup to become a support animal for Veterans with PTSD.
Some of Lucas' favorite flights are with Angel Flight, when he flies sick individuals   who live in rural areas to important hospital appointments.
"I flew a mother and her 12-month-old son to the hospital for treatment, saving hours of driving time and hopefully leading to a better outcome," said Lucas.
The reduced travel time to the hospital helps relieve the financial burden of travel to-and-from hospitals, which are often hours away from the person's home.
Whether connecting the medical community, helping transport puppies or providing hospital access to those who otherwise may not have access to life-saving medical care, First Officer Brian Lucas demonstrates the SkyWest Spirit of giving back while doing something he loves: flying.