Last week, SkyWest teams in Fresno, California, worked together to operate a flight much different than our typical 2,000 flights a day. This unique operation brought the miracle of flight to 50 special passengers as part of the first ever Wings for Autism® event in California.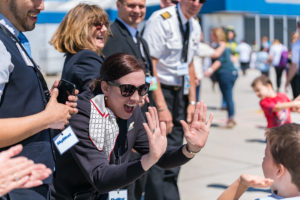 After checking in at the ticket counter, the children and their families were greeted by members of the TSA, who explained what to expect in the screening process. After making their way through Security, they gathered at the gate, where SkyWest crewmembers greeted them and talked to each child individually.
"You're an actual pilot?" asked one wide-eyed child. "This is the coolest day ever!"
The children then boarded the SkyWest CRJ200 and received a special sendoff from crews lined up on each side of the aircraft. After a full safety demonstration from the flight attendants, they taxied around the airport while enjoying snacks and beverages. They were welcomed back to the gate with high fives and plenty of smiles.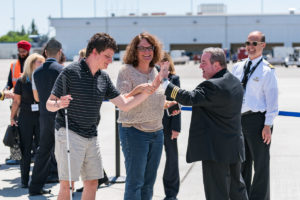 Teaming up with Fresno Yosemite International Airport, The Arc, TSA, Delta Global Services and Hewlett Packard, the event provided individuals with autism or other intellectual and developmental disabilities and their families the opportunity to prepare for air travel in a real-life environment. While this special flight never actually left the ground, the children and their families got a first-hand look at what to expect at the airport and on an aircraft, helping to alleviate the stress they may feel when travelling.
Many thanks to the SkyWest people who volunteered countless hours of coordination and expertise to share their love of flying and provide these families with memories that will last a lifetime!
Read more stories about SkyWest People Making a Difference.
Interested in being a part of the SkyWest team? Find out more information at skywest.com/careers.