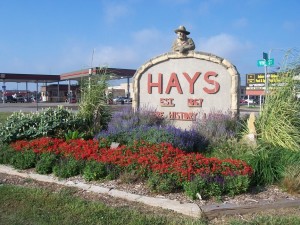 Rob Brewer
Emerging Media Coordinator
Hays, Kansas is known as a place with small-town charm and big-time fun! And the friendliness of those who call Hays home is evident to travelers who are enjoying a family vacation, business trip, sporting event or even just passing through.
Those making their first visit to this historic frontier town will definitely appreciate the many low- or no-cost attractions that are available, including the chance to learn about Hays' often dangerous early days when the town was filled with railroad workers, desperados and other notorious characters. The city also offers historic downtown tours and shopping, a look into frontier military history, annual festivals and sporting events, art studios and performing art, and much more!
In its early days, Hays developed a reputation for lawlessness and as a tough "end of the tracks" town. During several months in 1869, James Butler "Wild Bill" Hickok served as an interim sheriff to quell the almost constant homicides, bloodshed and feuds. Visitors can experience some of this history with a trip through time on a self-guided walking tour of downtown. Twenty-five bronze plaques mark the route where some of the most famous and notorious characters lived and walked.
The Fort Hays Historic Site offers a glimpse into a soldier's frontier life in this unique location that was founded to protect settlers from native resistance. Today, visitors can see the original blockhouse, guardhouse and officers' quarters, and the information center provides exhibits and artifacts about the fort and military history.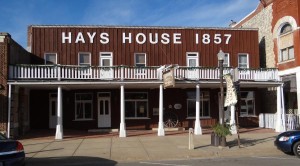 In town, there is always something exciting and interesting happening throughout the year, including 12 annual German festivals and events that celebrating the Hays area's German immigrant heritage. Sample the finest German lager at Oktoberfest or participate in Lanternfest where families and children make handmade candle-lit lanterns. There are also rodeos, car racing events, 5K runs, country music concerts, and an exhilarating fireworks display at the Wild West Festival. December's FrostFest offers horse-drawn wagon rides, a baking contest, a visit with Santa, vendors, decorating cookies, children's arts and crafts, storytelling and the Main Street  illuminated holiday parade.
Downtown Hays, the oldest part of the community, has recently seen great revitalization that is helping preserve history and pride while also creating a bustling old-fashioned-main-street atmosphere. The area currently features more than 100 thriving businesses that include dining and entertainment options, antique stories, art shops and many other services.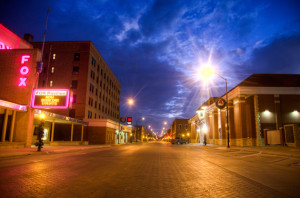 When it's time to dine, try the award-winning house brews and frontier cooking of Gella's Diner & Lb. Brewing Company, named by the Huffington Post as "the one thing you must do" in Kansas. It's less than 10 minutes from the airport and is just blocks away from Fort Hays State University.
Get started on an historical adventure to Hays aboard one of the two daily SkyWest Airlines flights, operating as United Express from Denver. The best fares can be found at united.com.