SkyWest Airlines is excited to announce we have once again been named a Glassdoor Employees' Choice Awards, Best Places to Work for 2021.
This award is based entirely on the feedback of employees who have voluntarily and anonymously shared reviews on Glassdoor during the past year. This feedback resulted in SkyWest being named a top 50 best company to work for in 2021.
"SkyWest people have pulled together more than ever during this incredibly challenging year," said Chip Childs, President & CEO of SkyWest. "I am extremely proud of the chance I have to work with this outstanding group of professionals and to witness the work they're doing to take care of each other and our customers every day."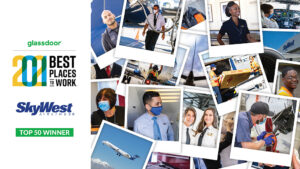 To determine the award recipients, Glassdoor evaluates all company reviews shared by employees over the past year. Despite an unprecedented year in the aviation industry, SkyWest people continued to demonstrate remarkable teamwork, service, and quality. Here are just a few examples of what they had to say:
"I love my job and my company they are doing amazing things for their employees at this time of COVID 19. Keep appreciating your employees the way you are doing now, and we will continue to love and work hard for our beloved Airline." – Flight Attendant Review, October 2020
"One of the BEST companies to work for, hands down! [SkyWest] Always has every employee's best interest in mind, competitive pay, great maintenance on aircraft, great people to work with," – E175 Pilot Review, August 2020
"Management is caring and understanding. We have great benefits and I love the atmosphere here. I've only been here a few months and everyone feels like family!" – IT Employee Review, March 2020
We are looking forward to continued success in 2021 thanks to our team of more than 13,000 and the unmatched work they do to make SkyWest a great place to work each day.