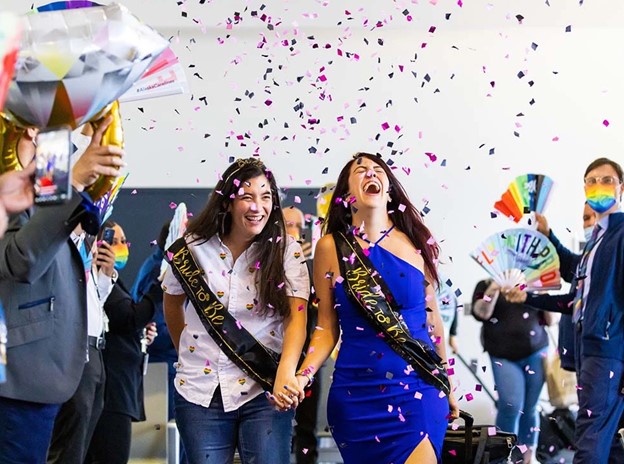 One of our San Francisco-based flight attendants celebrated Pride in a very special way this month. Veronica Rojas was on an Alaska mainline flight from San Francisco to Los Angeles when she surprised her girlfriend, Alejandra, with a proposal at 30,000 feet in the air. Alejandra, a new Alaska Airlines pilot, said yes, but there was a twist. She was also planning to propose to Veronica the same day. Watch the video that Alaska captured on this unforgettable flight.
"All the love and support is just super overwhelming and amazing," said Veronica.
Throughout the month we've also heard from several other employees about what Pride Month means to them and how they are celebrating.
"Pride Month means more than just supporting those in the LGBTQ+ community, but support for everyone regardless of their sexual orientation, religion, gender, race, national origin etc.," said Matt Taft. "It's a month where I stand in support for equality for everyone; everyone deserves to be treated equal, and everyone deserves to be loved the same."
"Not only do members of the LGBTQ+ community come together," said Greg Smith. "But, this is also an opportunity to welcome others in the celebration of equal rights."
As part of Pride Month SkyWest's beWell program has also provided an LGBTQ+ Ally Guide to help us all become better colleagues, friends, partners and allies. And you can find advice, inspiration and support from people who are on a similar journey in the Sanvello Pride Community.
At SkyWest we are proud to recognize Pride Month. No matter who you are or what you believe, you're an important part of the team.