SkyWest pilots made a special landing at St. Luke's Children Hospital in Boise, Idaho last week to help spread some holiday cheer. The pilots turned their pilot hats in for some Santa caps as they visited with patients throughout the day.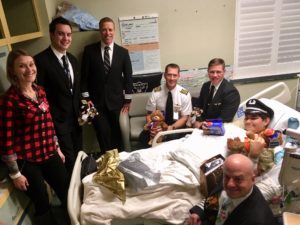 SkyWest Captain P.M. Schneidau as well as First Officers Luc Levasseur and Zeb Baney, along with several pilots from other airlines, arrived at the pediatric unit with their sack of toys. Some of the gifts included stuffed animals, LEGO sets and gift cards.
"We saw lots of smiles and eyes light up today," said Captain Schneidau. "Many of the kids were so thankful and it was great to visit with them. We hope a new stuffed animal or toy will make these kids' stay in the hospital a little easier and leave them with a positive memory."
The event hits close to home for the Schneidau family who have experienced what families at St. Luke's Children Hospital are going through right now.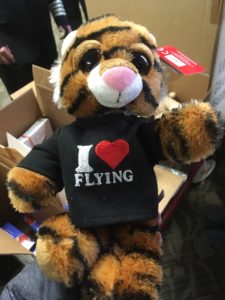 "My wife and I have had two very preemie babies at this same hospital, with our youngest boy spending several nights in the Pediatric ICU," said Captain Schneidau, who is currently a volunteer on the NICU Family Advisory Council. "So when this event came up, Vanessa and I were thrilled to have the opportunity to participate in such a thoughtful and wonderful event."
For many families, the holidays are a time of stress and added anxiety as they support and care for sick loved ones. Pilots for Kids is a non-profit organization dedicated to supporting hospitalized children and their families by using volunteer pilots to fly in toys and other needed supplies, with the goal of bringing smiles to families and children in need. This Pilots For Kids event was the first-ever in Boise. The event was so rewarding, that each of the pilots are already planning next year's event.
"We look forward to participating again next year," said Captain Schneidau. "We hope to make it even bigger too."
Throughout the year, SkyWest employees have made it a point to give back to their communities through a variety of service projects. And with the holiday season in full swing, our crews and teams are once again finding ways to help make a difference. Read more about SkyWest people making a difference here.