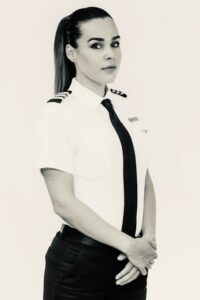 SkyWest is known for its exceptional group of diverse people whose common goal is the pursuit of excellence. As we celebrate Hispanic Heritage Month, we recognize one of our own pilots whose heritage has played a key role in her career as a pilot.
SkyWest ERJ First Officer Melissa Montiel Jimenez was born and raised in Tijuana, Mexico. Her grandmother's interest in aviation sparked a passion in Montiel.
My grandmother owns a local radio station and hosted a show that featured people who worked in aviation. I was fascinated by her stories."
Montiel's grandmother would often take the whole family to nearby San Diego to watch the Blue Angels and other air shows. From an early age, Montiel was inspired by those pilots and knew she could do the same thing.
While Montiel was studying marketing in college, the aviation bug started to pull her towards flying. She joined an introductory aviation class to learn more about operating an airplane. After extensive research, she decided to begin flight training in San Diego.
While studying aviation, Montiel learned that women make up a small percentage of pilots across the industry. "As a Latina female, that was enough motivation for me to know it could be done," said Montiel.
"My family thought this passion was nothing more than an expensive hobby," she recalls. Others outside her family doubted her motivation. Some even asked her if the reason she joined flight school was to find a husband. Montiel ignored the skeptics and continued to work toward making her childhood dream a reality.
Montiel began her career flying with a company in Mexico, overcoming many obstacles on her path. She recalls passengers refusing to fly with her because she is a female.
"Even when I think I am not as experienced as other people, I know I can be a role model for myself and others."
She never looked back and joined the SkyWest team in 2017.
When asked about her decision to come to SkyWest, Montiel stated, "I wanted to make sure I was joining the best airline; one that would give me the possibility of growth and be able to provide a good quality of life while still providing time to be with my family. I could not be happier about my decision to join SkyWest."
Montiel has embraced being a role model and representing her community. Pilots often tell her she is the first woman and Mexican they have flown with.
"I want to hold the standard of the Latina pilot very high," she says. "We are known as hard workers, and have an amazing culture."
Montiel says the best part of being a Latina in aviation is opening potentially closed doors for others and showing what is possible. "Dreams can be accomplished, and I am proof," she says.