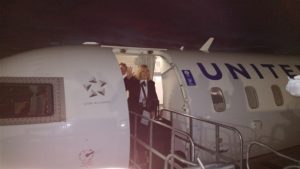 After 32 years of dedicated service, Palm Springs (PSP) Captain and SkyWest's first female captain Mary Conti retired on Saturday. Captain Conti was one of the first female pilots at SkyWest and the longest-tenured female pilot in SkyWest's 45-year history.
"I want to thank Captain Conti for her leadership and professionalism over her decades-long career here," said Tracy Gallo, Vice President – Flight Operations. "Captain Conti is a role model to countless female pilots at SkyWest and across the industry over the last 32 years. We thank her for her service and wish her the best of luck in her retirement."
Captain Conti began her SkyWest journey during the SkyWest/SunAire merger in 1985 after being rejected at other companies strictly because she was female.
"There were corporate jobs and you knew you were being turned down because you were a female. They could actually tell you that back then," said Captain Conti.
Her initial training at SkyWest was completed in one of SkyWest's first hangars at the old St. George, Utah airport in 1985. Following training, she went to PSP to fly, where SkyWest's acquisition of SunAire was still in transition. Nine months later, she and two other female pilots upgraded to captain together, becoming SkyWest's first female captains. Bringing her journey full circle, Captain Conti completed her final flight last week from San Francisco (SFO) to PSP with an all-female crew.
The first SkyWest employee Captain Conti happened to meet when she got to PSP was a check airman who soon became chief pilot. He is now her husband of nearly 30 years and they have one daughter.
After her first two years at SkyWest, Captain Conti says she knew she wanted to stay and was based in PSP her entire career – with the exception of a few months after upgrades and transitions.
"Working at SkyWest is like working with family. I never get sick of my crews!" said Captain Conti. "You can have a bad day but the people you work with just makes it all better. Coming to SkyWest was the best decision I could have made. If I could do it all over again, I would without a doubt."
"Like most pilots, I love what I do," continued Captain Conti. "It gets in your system and it's hard to let it go. Doing it with amazing crews like the ones at SkyWest makes it even more special."
Please join us in thanking Captain Conti for her more than 32 years of dedicated service. Congratulations, Mary!