While it's easy to get caught up in the hustle and bustle of the holiday season, SkyWest employees make time to give back to the local communities in which they work and live.
In addition to the recent Fantasy Flight in Colorado Springs and Flight to the North Pole in Milwaukee, this year SkyWest people have also contributed to local food pantries and charities, benefiting ill or underprivileged children and families during the holiday season.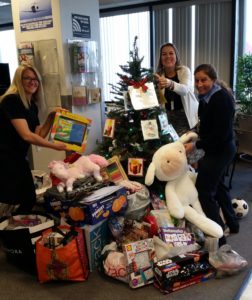 Members of the SkyWest team in Salt Lake City recently gathered donations this holiday season to benefit sick children in need of smiles. Pilots, flight attendants and customer service agents rallied together and collected paper, glue, duct tape and other needed supplies for kids' craft time at the Primary Children's Medical Center Child Residential and Day Treatment facility.
SLC team members also worked together to support the Candy Cane Corner, a seasonal store providing holiday gifts for low-income families and individuals participating in programs at the YWCA Utah, The Road Home and Volunteers of America. Donations included toys, art supplies, stuffed animals and educational games.
"There was overwhelming support from team members in donating for both of these organizations," said SLC administrative assistant Tiffani Jensen. "As the donations were picked up by the organizations, you could see they were truly touched."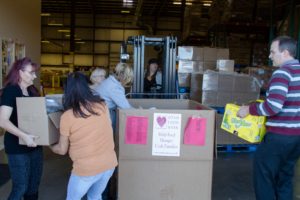 Additionally, team members in St. George, Utah, participated in an annual Holiday Donation Drive. Donations were given to the Utah Food Bank, providing much-needed items to 24 local pantries and organizations. Thanks to the generosity of all who participated, 6,346 pounds of goods were donated, including 87 cases of water, more than 500 cans of food, over 200 pounds of pet food and more.
A huge thank you to everyone who contributed! Whether it's flying children to the "North Pole," gathering supplies to benefit charities or collecting goods for local food pantries, SkyWest people go above and beyond to extend their holiday cheer to local communities.