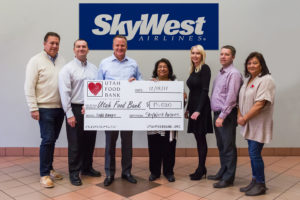 SkyWest people have worked all year long to give back in our communities as we celebrate 45 years of flying, making 2017 one of our most giving years ever. As we wrap up a year that has included building houses with Habitat for Humanity in Salt Lake City, Denver, Chicago, and Los Angeles; donating thousands to support Hurricane Harvey victims; giving $45,000 for the SkyWest Scholarship Fund and transporting some very special passengers to the North Pole, SkyWest team members got in the spirit of giving once more this December, raising more than $15,000 for the Utah Food Bank, including a dollar-for-dollar match from the SkyWest, Inc. C-suite!The donation will have a large impact on fighting hunger, providing nearly 55,700 meals for those in need this holiday season and beyond.
"Not only have we had an incredible year operationally, we've also had a tremendous year of giving back," said SkyWest Vice President of People Lori Hunt. "The giving hearts of our people is another attribute that sets SkyWest people apart as the best in the industry. Thank you all for your generous time, volunteering and donations to help others both inside and outside the SkyWest team."
The Utah Food Bank, a member of the nationwide network, Feeding America, feeds 392,000 children, families and seniors who are unsure of where their next meal will come from. They are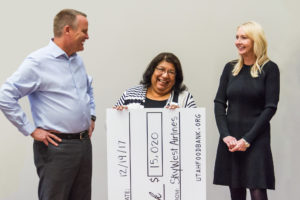 one of several food banks that delivers food to their partner agencies free of charge and are a member of the nation's leading domestic hunger-relief network.
A huge thank you to everyone who contributed and joined the fight against hunger! You can continue to make donations to the Utah Food Bank through the SkyWest team page by clicking here.