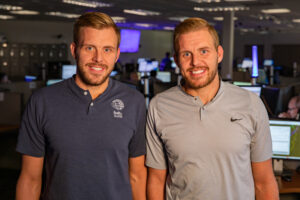 Matt and Mike Jacox – identical twins and dispatchers at SkyWest Airlines – are used to all of the double takes and questions that come with being identical twins.
"When we first started at SkyWest, we had different shifts and people would call us the wrong name because we looked and sounded so much alike," said Matt. "We're used to it so we didn't mind, but we did have some fun with it."
In fact, Matt and Mike have fully embraced the twin lifestyle. They received their pilot's license at the same time, the brothers are also brothers-in-law after marrying sisters on the same day, and to top it off, the brothers are also next-door neighbors.
"We've been best friends since I can remember and the only thing we don't agree on is avocados and who was really born first," laughed Mike.
Naturally, it was only fitting that both Matt and Mike were hired at SkyWest, on the same day, and in the same department.
"We've always been together," said Mike. "We probably have too much fun with it, but it's really the best thing ever!"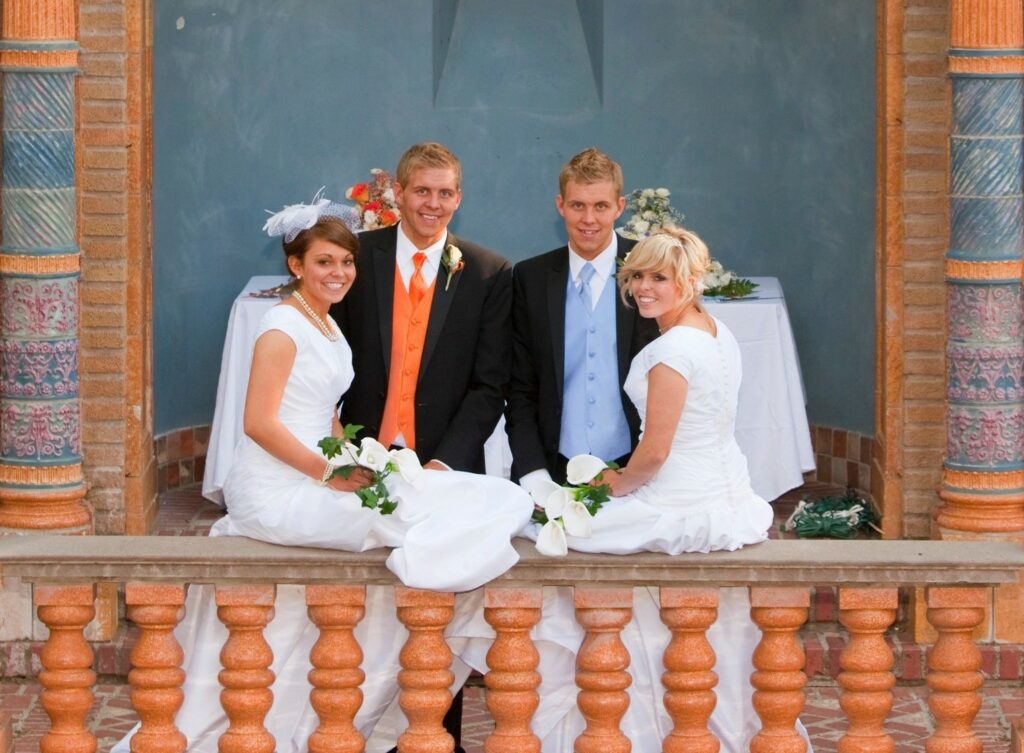 The Jacox twins are no strangers to SkyWest as their mother, Becky, was a flight attendant for eight years before retiring to spend more time with her grandkids. Every time Matt and Mike visit, Becky asks how things are going and reminisces about her time at SkyWest.
"I wanted to keep flying, but I ran out of days off," Becky said jokingly. "With 10 kids, 27 grandkids under the age of 11 and four weddings in one year, it was time for me to be with my family. But SkyWest will always hold a special place in my heart."
Matt and Mike were first introduced to the aviation industry thanks to their father, who is currently a pilot at FedEx.
"Our dad would always take us flying when he could and we quickly caught the aviation bug," said Matt. "It was a lot of fun and a great experience!"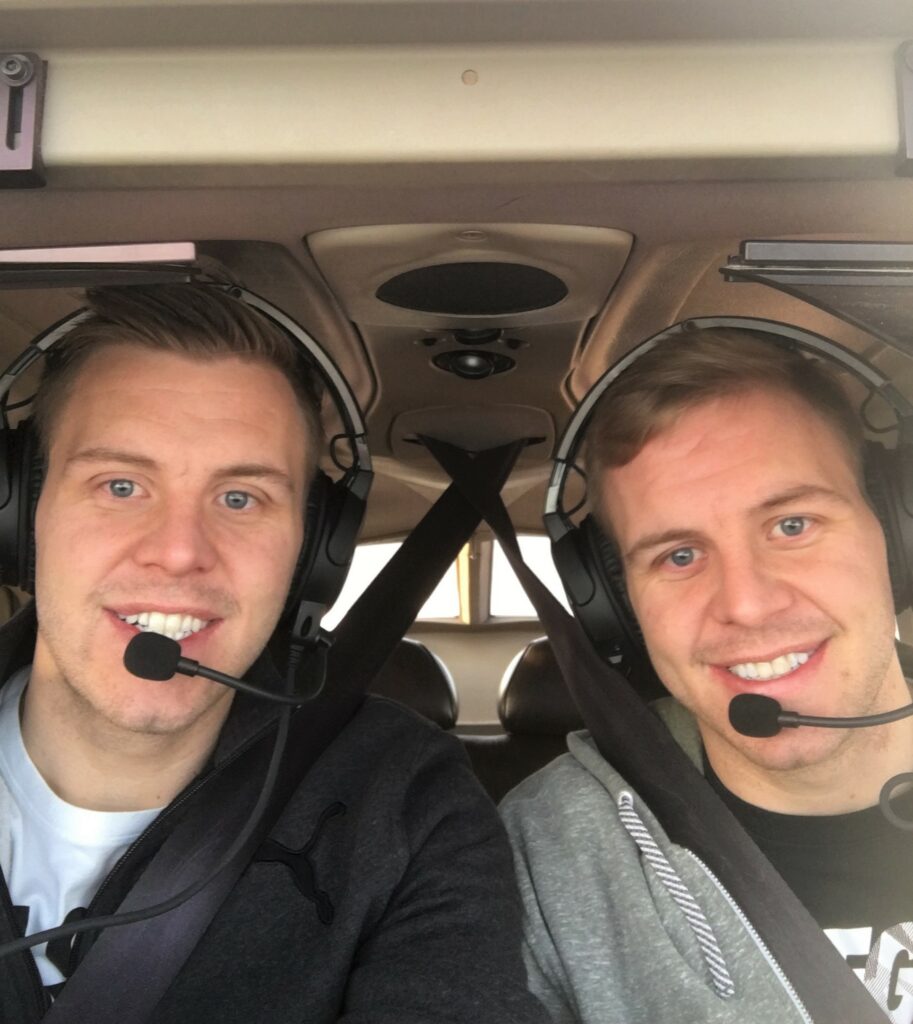 Although working for an airline company and flying commercially is something that both Matt and Mike have always wanted to do, they knew it would be awhile until they accrued the necessary 1,500 hours of flight time to be a commercial pilot. When their parents suggested they look into aircraft dispatching, Matt and Mike jumped at the opportunity to get started with their aviation career.
"Honestly, we had no idea what an aircraft dispatcher position entailed," said Mike. "However, it ended up being a huge blessing for us because not only did we get to start working earlier at SkyWest, but we also got to see a different side of the operation. There is a lot that goes into an airline operation and being a dispatcher gives you a behind-the-scenes look at how it all comes together."
After getting a 10-20 minute weather briefing before starting their 10-hour shift, SkyWest dispatchers watch over and build approximately 50 flights per day. They ensure as many variables as possible are taken into consideration to ensure each flight is ready to go in order to help every aircraft get to their destination safely, and on time.
"There is a lot of work that goes into getting flights off the ground," said Matt. "Some people think we just click a couple of buttons and that's it, but in reality, there's so much more that goes on for each flight. As a dispatcher, our job is to keep everyone safe, give the pilots as much information as possible and to help each other so that our customers can get to where they need to go."
From planning flights paths and making sure there is enough fuel for each flight, to reviewing airport conditions, airspace restrictions, turbulence forecasts, and thunderstorms, aircraft dispatchers have a lot of responsibilities.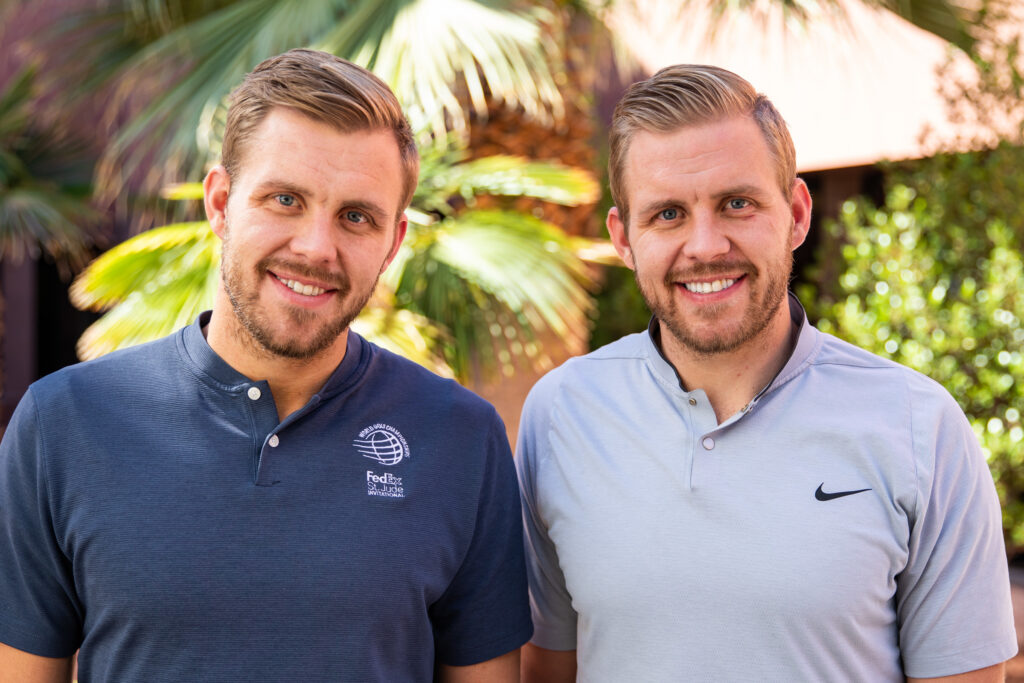 "As a dispatcher, we are getting calls from pilots who have questions and we need to know it," said Mike. "It's always exciting when I can answer their questions and it makes me feel important and that what I'm doing is really making an impact."
"After a flight is completed we'll get calls from pilots thanking us for our help and letting us know that everything went smoothly," added Matt. "It's also really rewarding to know the role we can help play in ensuring passengers make their connections and arrive at their destinations on time!"
Other perks in the position include a four-day workweek, which allows more time to travel or to spend with family.
For those looking to enter the aviation industry as an airline dispatcher, the Jacox twins have a few words of advice:
"The biggest surprise is the amount of knowledge you need," said Matt. "I continue to learn new things every day. After I was certified I thought I knew a lot, and then I came here and realized that it there was so much more that I needed to learn. The training at SkyWest has been fantastic and has allowed me to really understand the operation and how everything works with each of our mainline partners."
"People always told me that SkyWest has the best dispatch positions because they have the best training," added Mike. "And it's true. SkyWest provides top-notch training and everyone is willing to go the extra mile and help each other out. We love working here!"
To learn more about becoming a part of the SkyWest family, please visit our Career Guide.