Nicole Manson, Dispatcher, HDQ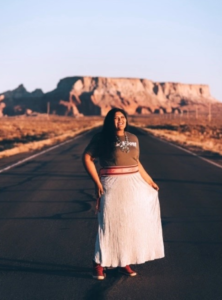 For SkyWest Dispatcher Nicole Manson, being Native American is something that she is proud of and holds close to her heart. She is a member of the Diné (Navajo) Tribe and was born and raised in LeChee, Arizona.
Growing up on the Navajo reservation, Nicole credits her heritage and upbringing for the strong person that she is today.
"I can't think of being anything else than Native American," said Nicole. "I am proud of my heritage, ancestors and the lessons I've learned."
Before coming to SkyWest, Nicole worked for a tourism company at the Page Municipal Airport. There she became good friends with a number of pilots who flew for Grand Canyon Airlines, and who later moved to SkyWest. Nicole decided to learn more about SkyWest, learned about dispatching and the rest was history.
"I honestly didn't know this dispatchers existed until just a couple of years ago," Nicole said with a smile. "I laugh now because it's such a vital position. My family and friends were puzzled by my job title at first, but the amount of support I received from them was immeasurable. After I received my license, I applied at SkyWest and it's been a great ride ever since. I'm truly blessed to be able to work for a great company."
 Nicolette Shirley, Flight Attendant, SLC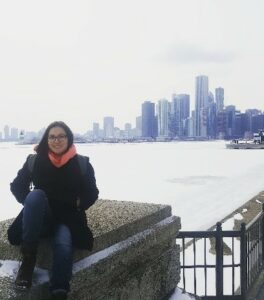 SLC Flight Attendant Nicolette Shirley is Diné and grew up
in both the Navajo Nation and Salt Lake City.
"I am proud to be Diné and carry my traditions/values with me," said Nicolette. "The Diné live by Hózhó. It's a guiding belief that shapes our actions, thoughts and speech that impacts yourself as well as those around you, and I try to bring a positive impact with those I cross paths with whether it's with my crew or passengers."
Prior to becoming a SkyWest flight attendant in 2017, Nicolette hadn't journeyed east of Colorado.
"Fortunately," said Nicolette, "SkyWest has given me the opportunity to go outside my comfort zone and travel further than I imagined. There's a lot of Indigenous influence all around. When we overnight in places such as Kalispell, Winnipeg, Chicago, Seattle, and Oklahoma City they derive from Indigenous words. It's always good to learn more about where we travel to and grant reverence."
Michael Gardner, Maintenance Technician, SLC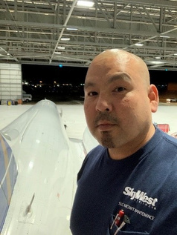 SLC Mechanic II Michael Gardner is both Athabaskin and Inuit, two tribes native to Alaska, and although he was adopted and raised outside of his tribal community, Michael still feels a strong connection to his Alaskan Native heritage.
"I'm adopted so my parents are not fully immersed in the traditional native way of life," he said. "I enjoy being unique in the sense that it's not very often that I'm in a room with other natives. It's ok to be different."
Although Michael is proud of who he is, he does admit sometimes he feels pressure being an Alaskan Native.
"I feel some pressure knowing that some natives do have a challenging environment to mature and grow in. I adhere strongly with the notions of education, hard work, and confidence in yourself and your abilities which as a result can showcase ones strengths and beliefs. Trying to be an example to younger generations, including my children, drives me to push forward with fortitude."
That fortitude pushed Michael to 21 years of customer service in the casino industry and now nearly two years with SkyWest as a mechanic.
"In every professional process there are steps to obtaining your goal," he added. "No goal worth your time can be accomplished overnight. Enjoying the process of learning and becoming who you ultimately want to be in life will give you a sense of pride and self-worth. It's your life, live it."
Rick Meyer, ERJ Captain, LAX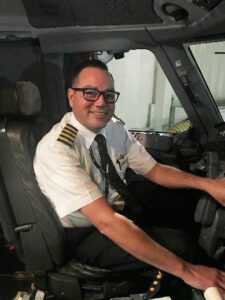 For ERJ Captain Rick Meyer, flying planes was something that he always wanted to do. However, without any family ties to aviation, becoming a pilot wasn't the typical path in his family.
"I was really into airplanes at a young age," he said. "My mom would take me to the airport and I would just sit in my stroller and watch the planes take off and land. I loved it and as I grew up, I knew it was something that I wanted to do for the rest of my life."
Captain Meyer is a citizen of the Potawatomi Tribe in Shawnee, Oklahoma. While he didn't grown up on a reservation, he did visit every summer, which gave him a chance to learn more about his culture and heritage.
"It's crazy to think I've been with SkyWest for nearly half of my life," said Meyer. "But I've loved it. Before coming to SkyWest, I worked for another regional company and I quickly realized how great SkyWest was when I made the switch. It has a great culture, great company, everyone is working together. No matter how big the company it still feels like family."
Sam Capitan, Flight Attendant, SLC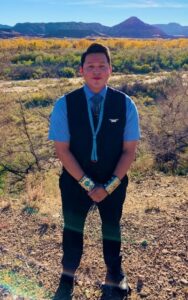 Sam Capitan is a member of the Navajo Nation. He has been flying with SkyWest since 2019 and is based in Salt Lake City (SLC) as a flight attendant. He loves the aviation industry and hopes to eventually become a pilot.
"I am proud to be Navajo," said Capitan. "Unfortunately, a lot of tribes have gone extinct. However, there are numerous Native American Tribes still in existence. This demonstrates the resilience of our People." Read more
Craig Strongbow, Cross Utilized Agent, PIH
Craig is a proud member of the Shoshone- Bannock Tribes.
"I am a Native," said Strongbow, who said that is how he thinks of himself. "I can't imagine being anything different. Natives are tough and persistent. I love my culture and what it represents; it's different. It's not often one hears about Natives, we are a very small minority."
"We are all family at PIH; we go to each other's birthdays, and events, and even have a book club," said Strongbow. "The benefits we get working at SkyWest make even the hard stuff we do so worth it. Our station has a great connection."  Read more