A grateful family of five was recently welcomed home for the first time at a Chicago Habitat for Humanity home dedication; a house SkyWest people worked together to help build.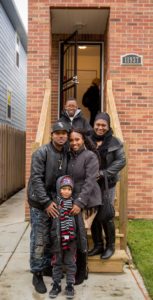 "This home means peace of mind. You never know what the future will bring, but we'll know [our kids and grandkids] always have a home to go to," said Shuanta and Mike Sampson, beneficiaries of the new Habitat home.
Volunteers, Habitat staff, donors and community members were all in attendance to welcome the Sampson family home with a ceremonial ribbon cutting, handing over of the keys and home tour. Messay Kedida, one of the Sampson's new neighbors and fellow Habitat beneficiary said, "The excitement you feel leading up to getting your house is nothing like the excitement you feel when you're in your new home with your family – especially over the holidays."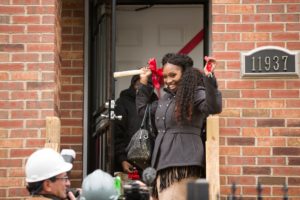 Over the past few months, SkyWest teams have been working alongside Habitat for Humanity to help build homes around the system in celebration of 45 years of flying. David Chudy of Habitat for Humanity Chicago said, "It's great to see SkyWest employees come together to help with Habitat Chicago's vision to build strong communities and provide housing. Volunteers are instrumental. Thank you to SkyWest!"
SkyWest is happy to support initiatives that encourage employees to give back. Learn more about joining the SkyWest team.