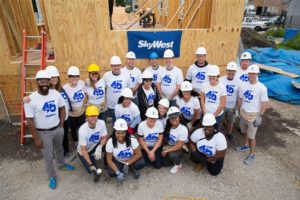 The Spirit of SkyWest has always been its people. Never has that been more evident than in 2017, when teams came together to give back to deserving causes around the SkyWest system as well as help team members who faced unforeseen tragedies.
From helping build homes alongside Habitat for Humanity to mark 45 years of flying, to softening the impact of Hurricane Harvey through donating to SkyWest's non-profit organization, the SOS: Crisis Fund, SkyWest people showed what truly makes the airline great.
Through events around the system, SkyWest people made a positive impact: donating over 85,000 hours building homes alongside Habitat for Humanity; bringing the miracle of flight to 50 special passengers as part of a first-ever Wings for Autism event in California; raising money for The Special Olympics in the ultimate tug of war competition: pulling an Airbus A300 weighing nearly 180,000 pounds; introducing the excitement of aviation to girls aged 8-17 in multiple locations as part of Girls in Aviation Day; proudly displaying what it is we do day-in-and-day-out to SkyWest children at Bring our Kids to Work Day; supporting the fight against breast cancer; donating meals to those in need; and of course, banding together in relief efforts to help SkyWest's own who were impacted by the hurricanes, fires and other unforeseen tragedies of 2017.
The year of giving didn't stop there. SkyWest people also provided SkyWest Scholarship funds to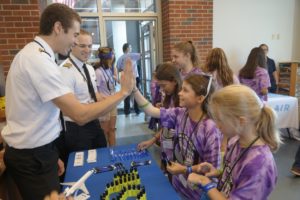 45 outstanding students, brought the joy of the holidays to children in need, and shared life-changing experiences with our passengers.
It's these and stories like them that have shaped 2017 and 45 years of flight at SkyWest. We look forward to 2018 and the opportunities it holds for continuing to give back where SkyWest people live and work across the country.