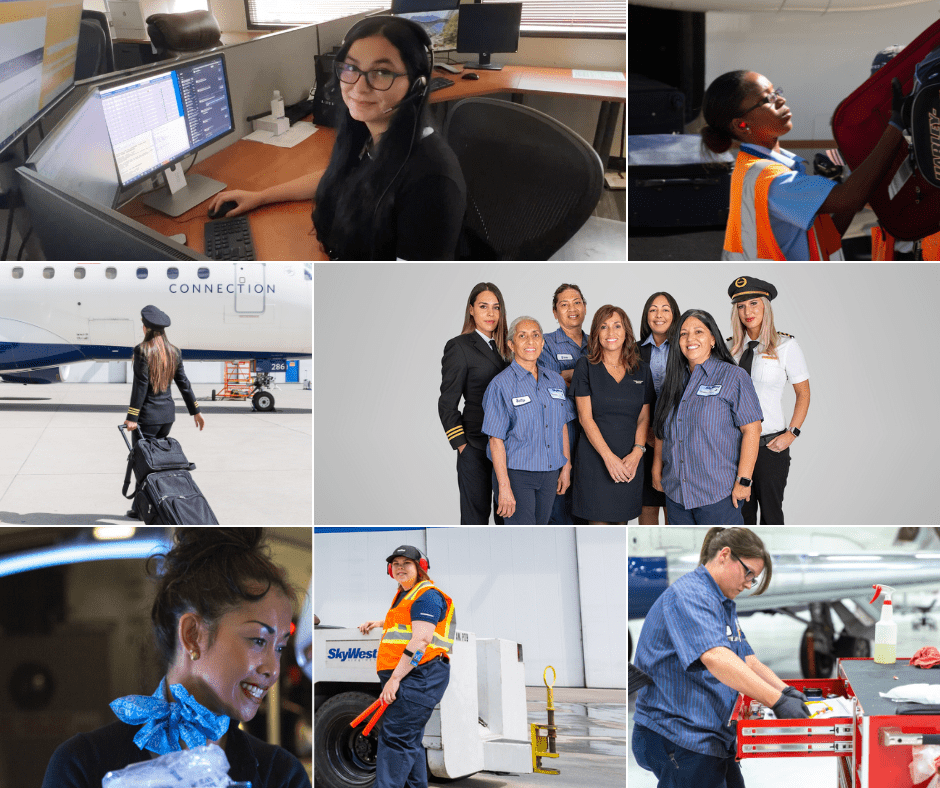 In honor of Women's History Month, we asked a few women to share their thoughts about what this month means to them and their experience at SkyWest.
I flew as a pilot with SkyWest for eight years and it's the highlight of my career. I was proud to be the first female check airman and was excited to instruct alongside some of the best in the industry. I had fun at SkyWest and learned a lot from the pilots I flew with. I'm grateful for the steps that SkyWest took to be more inclusive. That's what this month means to me, creating a space for more women to do what they're best at. If you're at SkyWest now, you're already doing great. Stick at it and keep going! SkyWest has helped take my career to new heights and it's the best place to be.
-Roxanne Diamantopoulos – First Female Check Airman at SkyWest, Former CRJ Pilot
Never reduce yourself down to your sex and never reduce others down to their sex either. I've been with SkyWest for 16 years now, and I haven't come across any barriers or glass ceilings in moving up the ladder, due to my sex. I believe that I was the first female QC manager years ago. I believe, I've held at least six different positions here at SkyWest. I've had opportunities to start new positions and assist with various projects that were up-and-coming, such as transitioning from paper AML to electronic AML. My advice to women in our industry is the same for any individual in our industry. If you are interested in something, go for it! Don't shy away from the hard work that it will take to get you there. Work on improving your skills and understanding of the operation. Talk to leadership, inform them of your goals, and ask them for any tips on how to improve or gain the skills necessary for your next leap. Get out there and see what's available to you. Being a women shouldn't make a difference. We shouldn't create restrictions for ourselves, and we shouldn't assume others have preconceived notions about what a female can or cannot do.
-Rachel Pergram – QC Process Trainer and First Female QC Manager MX, Fresno, California (FAT)
This month is about increasing opportunities for women to learn so that they can become leaders. That's what SkyWest did for me. I was based in Los Angeles, California for 12 years and that's where I learned all the tricks of my trade. I'm always grateful for the potential that SkyWest saw in me and the opportunities they gave me to lead. If aviation is your passion, SkyWest is the best place to refine your skills and to learn from the best in our industry. I've been at my current job for six years now, and I'm continually using the knowledge that I gained at SkyWest to lead my team and to show other women, especially women of color, that we can lead and make significant contributions in any space.
-Chyna Soloi – Former AO Manager, Los Angeles, California (LAX)
Being with SkyWest for almost six years now, I've seen how diversity within the company has evolved, and it's been significant. It's really great to be a part of that change. Being inclusive has brought us closer together, and I've learned so many new things from my colleagues. I love that we're all different and unique. In this industry, that diversity can only make things better. This month, I want all the women in aviation to embrace all the greatness that comes with our jobs. Don't be afraid to live your dreams, especially if it's being a flight attendant.
-Voulanda Thomas – Flight Attendant, Dallas-Fort Worth, Texas (DFW)
I love SkyWest so much! I was a recruiter with SkyWest for many years and I'm so happy to talk about SkyWest any day. I learned so many valuable lessons from my team and from the different people I was able to meet because of my job at SkyWest. Being a woman in this industry can seem tough, but with SkyWest I never felt like that. I was part of a team that consisted of strong women and who were leaders. SkyWest is full of the brightest women in the industry, it's seriously the best. If you're at SkyWest now, you're opening a door of endless possibilities because of the great company you are representing. I miss my SkyWest days and I'm lucky to have been a part of a great team.
-Ana (Kinikini) Watanabe – Former Pilot Recruiter, Salt Lake City, Utah (SLC)
I've had a career in aviation for over a decade – since I graduated high school, and I'm always so excited to see how many more women have joined the industry. SkyWest is working hard at creating more opportunities for women to be in leadership positions, and I think it's important that we have more people in positions who will help create an inclusive environment for everyone. I am excited to celebrate Women's History Month with my colleagues and I'm excited that SkyWest is celebrating the incredible women of this company.
-Lia Tausinga – AO, Salt Lake City, Utah (SLC)
Joining SkyWest has been the best and it's extremely freeing to have a career that I love. I also love this industry because of the close-knit group that we have, it's like a family. I have always felt like I belonged, and everyone I've flown with or spoken to has always been supportive. My advice to the women in our industry, follow your dreams. Join as many organizations as possible and get involved. I've met with so many women who were supportive of my journey and they've given me the best advice. We always need more women to be pilots, and I am grateful for the position I am in to help them do that.
-Kenzie Flanagan – ERJ First Officer, Chicago, Illinois (ORD)
Thank you to all the incredible women who have and are working at SkyWest, and who help us accomplish so much. Learn more about joining our incredible team!